Commercial Aluminum Services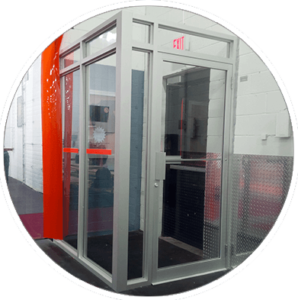 A Glass and Aluminum is master at commercial aluminum services such as storefront repair and installation.
We have a extensive 24/7 services for your aluminum storefront repairs. Poor and unprofessional installations of aluminum storefront is an easy open door for thieves and burglars. We will make sure that your project with us will keep your busines safe and secure from this prespective. Our fast yet affordable soutions no matter if it is a repair or new installation will not affect your current and daily business operation if you co-operate with us.
Needless to say that commercial Aluminum Servives have a good number of variety of options. From beautiful Storefronts to partitioning and and creating roomed spaces. Security doors and Emergency Exit, Regular Window and Colored Window are the other main usages of Aluminum in commercial spaces along with Railings.
We also do custom build Glass and Aluminum services according to your needs. For more information of customizaitons please visit our custom build page.
These are a list of few businesses that we have already served:
Retails
Shops
Offices
Shopping Centers
Malls or plazas
Bars, resturants, pubs and Cafeterias
Dealerships
Rental apartment complexes
Hotels and motels