Commercial Glass Services in Markham
Proudly served markham since 2003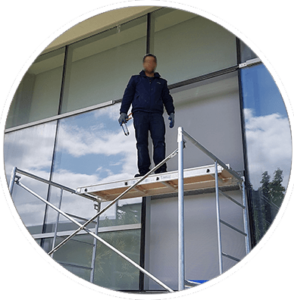 Since 2003 our glass and aluminum experts have been serving various customers for commercial glass services in Markham, Richmond Hill, Mississauga, Toronto and other GTA locations.
Commercial buildings and units are growing in Markham every day. No wonder the request for remodeling or replacing a commercial window or a total change of window glass is growing day to day. Best solutions to any of your projects regardless of replacing, repairing, installation or even customizing your needs are our aim. Any of your commercial windows and glass doors, frame less partitions, tables, mirrors, and even glass shelves are what we are very good at.
Most of the business services are not limited to regular glasses, they usually choose safety Glasses. tinted, colored and filmed glasses are very popular when it comes to decoration or diming, Low-E and UV glasses are used to block more sunshine, thermal is for more protection while in case of broken glasses we often do a board up to make the environment safe and ready to start our job.
A professionally repaired commercial glass or window not only can help your business keep going but also prevents future problems or service recalls.Had an accident? No worries, please contact the best and fast 24/7, 24 hour emergency services and have it fix.
Why should you call us to provide commercial glass services in Markham or any other location of GTA?
Simply because of quality and cost. On one hand our teams are high-qualified and being trained according to the latest technologies and on the other hand Our prices are both fair and affordable for all people.
We also do board up, street display, front doors or any other project that helps your business to grow. Here are a sample list of what we have done: