Cracks and Insulation Fixes: Your Guide to Residential and Commercial Window Glass Replacement
By g
in Glass
Your Guide to Residential and Commercial Window Glass Replacement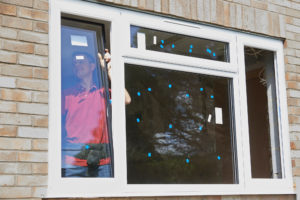 Did your kiddo throw a baseball through your window or is it simply time for a new pane? Learn about window glass replacement.
Keyword(s): window glass replacement
Glass windows help bring natural sunlight and improve ventilation in homes. Keeping tabs on their conditions should be among your home improvement priorities.
Common signs your glass windows need replacement include cracks and breakage.
Homeowners find the task of replacing their glass windows difficult. A window glass replacement doesn't have to be as complicated as you think. This definitive guide on window glass replacement can provide you all the information you need.
What's Window Glass Replacement?
Window glass replacement refers to the glass piece used to replace a broken window glass. Inserting the piece on the window only helps to fix a minor problem. The entire window won't be removed during the replacement procedure.
Glass replacements for windows usually perform well after installation.
What Are the Signs You Need Window Glass Replacement?
Homeowners can notice cracks and breakage while cleaning their windows. An increase in the energy bills may indicate you need to replace the window glasses.
Other signs you can observe are as follows:
1. Windows Become Impossible to Repair
One sure sign that window glass is old is when it can't be repaired. At this point, you'll notice the glass window is unstable on its frame. Fixing the window won't solve the problem.
The only solution is to have a replacement window glass installed.
2. Difficulty Closing or Opening the Windows
Window glasses are designed to open in a specific direction. They can fail to open as usual when there's damage on the edges.
Cracks and breakage on the glasses can make them difficult to open or close.
3. Window Pane s Are Cold to Touch
Double-pane windows are usually warm to touch when it's warm outside. Their single-pane alternatives are always cold, no matter the temperatures outside.
Buy replacement double pane glass if the current double panes are cold in hot conditions.
4. Unwanted Chilly Breezes
Cracks on the window glasses allow cold air to enter your house. Chilly breezes shouldn't get into your home when you've closed the windows and doors.
Check your windows for the tiniest cracks before replacing the glasses.
5. Increased Energy Bill
High heating costs may be as a result of faults on the window glasses. Cold air can pass through tiny openings in these glasses. The cold from outside may make you increase the thermostat.
Your energy bills will increase if the thermostat is consuming a lot of electricity.
6. Home/Office Renovation
You may choose to renovate parts of your building depending on their quality. Your windows also need a replacement just like the roof, ceiling, and doors.
The design of the existing window glasses mustn't match other renovated parts. You should replace them to achieve a new look in the building.
7. You Survived a Natural Disaster
Disasters such as hurricanes may leave your window glasses with cracks. You'll have to buy new ones which can withstand harsh weather conditions.
The window glass replacements should also withstand extreme temperatures.
Finding a Company for the Window Glass Replacement Job
Window installation is a labor intensive job that needs a specialist's help. The window glasses won't work as they should if you install them by yourself.
Choose a windows installer by considering the following factors:
1. Know What to Expect
A window installer should explain to you the timeframe and procedures for the work. You should set goals and objectives for your installation job. Refer to your goals when finding a good installer.
Knowing exactly what to expect may help you get great value from your money.
2. Get Bids from Several Installers
Ask potential installers to send you bids and analyze them. The proposals should include details on how they'll handle the work. They need to clarify the total costs and type of window glasses.
Use this information to choose a contractor that suits your budget and expectations.
3. Conduct Due Diligence
Check the online platforms for reviews and ratings of an installer. Verify the contractor is certified by visiting the relevant certification websites. Remember to ask for proof of insurance and the warranty information.
4. Seek Professional References
Some window glass manufacturers only contract professionals they have trained and licensed. Visit their websites to find a list of professional references in your area.
You can find an installer skilled in double pane window repair from the sites.
Window Glass Replacement Buying Guide
Window glasses can be designated for replacement or new construction. Replacement windows don't come with a nailing fin. They're designed to fit in your existing window frame using fasteners.
Factors to consider when buying them are as follows:
1. Type of Window
Commercial and residential windows can either be fixed or operable. The fixed ones can't open while the operable ones can open.
Buy the replacement parts depending on the type of windows at your place.
2. Frame Materials
Window frame materials include clad-wood, wood, aluminum, and vinyl. Aluminum and vinyl are the ideal frame materials for replacement windows.
Aluminum is durable, light and easy to handle. Vinyl, on the other hand, resists heat and doesn't need high maintenance.
3. Energy Efficiency
Some windows have several glass layers for insulation purposes. Examples include a triple-pane and a double-pane glass replacement. Others have a coating for blocking heat and keeping your property cool.
Consider buying the window glasses depending on your energy-saving preferences.
4. Ease of Cleaning
Vinegar and water are ideal for cleaning windows panes, but you can also use manufacturer-recommended cleaning products. Buy window glass that's easy to clean.
Seek Out a W indows Glass Replacement Service Today
Window glass replacements promise to improve the appearance of your building. Your property can fetch lots of cash when sold with the window glasses. For the replacement work to be fruitful, consider hiring an installer.
We're a glass repair and replacement firm operating in Toronto. Our services are available to GTA residents on a 24/7 basis.
Contact us to speak with one of our customer service reps or get a quote for our services.