World on Yonge: Commercial Storefront made of Aluminum and Glass
By g
in Glass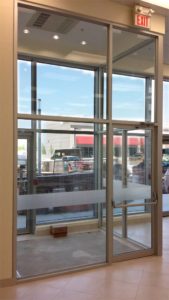 We have successfully secured the largest pharmacy on World on Yonge, Toronto, project on June 2014.
Estimated to be finished within 14 days, which finished earlier than expected.
Project was a commercial Vestibule, included (but no limited to) Clear anodized Aluminum, Tempered Glass with door closer, panic bar, Sandblast Film, etc. Area of 185 sqf.